Which type of financial
 adviser is best for you?
Are you aware of how your financial adviser is licensed?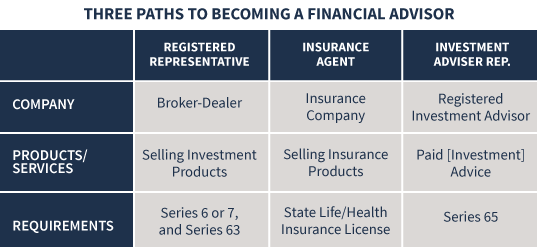 Most don't realize that when they walk into a bank or brokerage firm branch, the registered representatives there are essentially free to use whatever titles they please — financial consultants, advisers, wealth managers, to name a few.
When searching for a financial adviser, it may be difficult to spot the differences between a glorified salesman pushing a particular product and a true investment adviser who is required to act in your best interest.
The content contained herein is for informational purposes only and does not constitute a solicitation or offer to sell securities or investment advisory services. Investments are not FDIC-insured, nor are they deposits of or guaranteed by a bank or any other entity, so they may lose value. Past performance is not a guarantee of future results and clients should not assume that future performance will be comparable to past performance.
Our Form ADV Part 2A firm disclosure document is available for review. Call or email to request a copy. This document contains detailed information about Royal Fund Management, LLC and the services provided.