Royal Fund Management...
 your risk management team.
Royal Fund Management offers Independent Fiduciary Responsibility
Royal Fund Management offers wealth management. As a SEC Registered Investment Advsier, Royal Fund Management does not sell financial products or receive commissions. Therefore, we are obligated, as fiduciaries, to act in the best interest of our clients.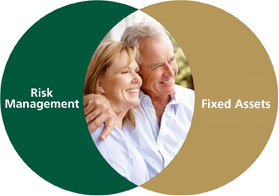 We do things differently.
How? It's simple:

We keep our Client First.
Royal Fund Management was founded by Mark Sorensen. Mark believes that the fee only advisory platform increases the potential to add value.  Why?  There are no product commissions to cloud the adviser's judgment when choosing appropriate investments.  The firm's compensation is directly correlated to the value of a client's managed account.
Royal Fund Management employs a diversified strategy utilizing no-load mutual funds and individual equities. Several model portfolios are available to meet a client's specific objective including unique models for special situations. Thousands of funds are analyzed for performance, expense ratios, management tenure, risk / reward, and other ratios necessary to evaluate potential. Diversification among asset classes is a key to our strategy but, cyclical opportunities and sector momentum plays are utilized to potentially enhance portfolio value.
Individual equity positions are utilized with dividend yield as the primary objective and growth as the secondary goal. Individual equity models may use trailing stop orders to limit downside.
Royal Fund Management may also utilize equity or index options for portfolio hedging. Other option strategies are employed in certain models designed to collect option time premium. Long options are only utilized for hedging or as a proxy for the underlying stock when writing covered call options.
---
Our approach:
We believe in a "big picture" fundamental approach.  By focusing on the fundamentals; earnings, interest rates, liquidity, etc., we endeavor to take the emotion out of investing.  Royal Fund Management takes a longer term view of the market and believes that short term predictions are not practical.  We do not actively trade or try to time the market as we deem these techniques as methods that will not add value over time.  However, we do take a proactive approach and may increase or reduce portfolio risk during periods of market promise or stress.
The independent fee-only relationship allows for no conflicts created by commissions and no product bias. Whether retired or nearing retirement, we welcome you to call or visit us to see if we can help. 
If you would like to learn more about Royal Fund Management, please visit their website: www.royalfundmanagement.com
---
The content contained herein is for informational purposes only and does not constitute a solicitation or offer to sell securities or investment advisory services. Investments are not FDIC-insured, nor are they deposits of or guaranteed by a bank or any other entity, so they may lose value. Past performance is not a guarantee of future results and clients should not assume that future performance will be comparable to past performance.
Our Form ADV Part 2A firm disclosure document is available for review. Call or email to request a copy. This document contains detailed information about Royal Fund Management, LLC and the services provided.